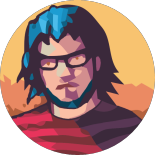 Sergio Flores
August 11 2017 | 12:00 AM
Pixel perfect rendering in Unity
---


It's common to find developers frustrated with pixel art in Unity, at first, it seems so difficult to get the sprites to render as pixel perfect, right?
So I decided to write a short guide, with all things that you need to setup in order to get this working without using any third-party assets!

First, let's make sure all our sprites in Unity have...
Tags: #graphics #tutorials #unity3d #pixelart
Follow me on Twitter for more cool stuff!