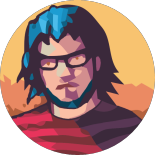 Sergio Flores
June 22 2017 | 12:00 AM
The Art of Lerp
---
If you are making a game, you probably already learned about Lerp functions, aka Mathf.Lerp() in Unity, lerp() in GameMaker and similar names in other engines.
In any case, this article will be interesting for both newbies and more experienced developers.

What exactly is a LERP?
I've seen many developers use Lerp without understanding what it is, including many that just think it is just a function to ease...
Tags: #coding #math #tutorials
Follow me on Twitter for more cool stuff!