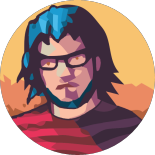 Sergio Flores
December 19 2017 | 12:00 AM
Fund your game with cryptocurrency
---
So you have your own indie game studio, and desperately need a way to fund your studio.
Let me guess:



Maybe you tried finding investors, no one shown interest or maybe did not even want to talk about games.


Maybe you tried publishers, but they also not shown any interest or wanted you to change your game and take a large chunk of the profits.


Maybe you tried crowdfunding, but it...

Tags: #business #tutorials #crypto

Follow me on Twitter for more cool stuff!